Omie Lunch Box – Learn more with Healthier Baby Today! OmieBox is an insulated lunch box with hot and cold food in one package.
It has two temperature areas, so the main meal keeps warm while veggies and fruits cool.
Finally, you can send your kids favorite meals to school and be confident they'll look and taste great. 
Omiebox protects the love and devotion you put into every meal. So kids get the energy they need to grow, and more importantly, they feel how much they're loved.
Your children will eat better and healthier, and you'll be happy knowing you provide them with the best nutrition to fuel their day. The Omie Lunch Box is perfect whether you want to pack a hot or cold lunch for your child!
Table of Contents
1. Keeps Food Hot or Cold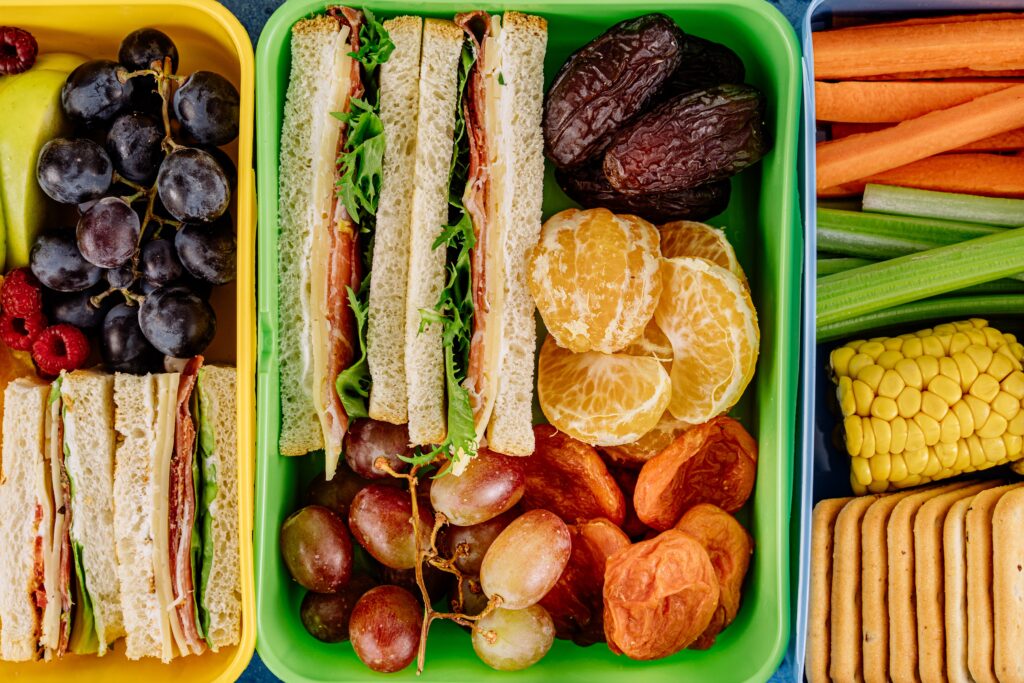 OmieBox uses two types of insulation to supply cold & hot food together. At the heart of the design is a powerful vacuum-insulated thermos.
It's made of two aluminium dividers with the air being sucked up in between so heat can't escape.
How Long Does The Omie Lunch Box Keep Food Hot or Cold?
It can keep food warm for up to 6.5 hours! If you place cold food in both the thermal jar and lunchbox, storing the lunchbox in an insulated lunch bag with an ice pack is recommended.
2. Omie Lunch Box is Leak Proof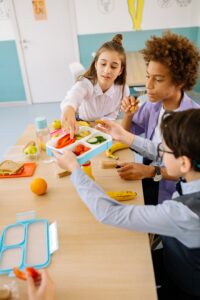 The Omie Lunch Box has three leakproof compartments holding up to 1 teaspoon of liquid each. Wet foods (soup, yogurt, dressing) should go inside the thermos.
If you're looking for one lunch box that can do everything – from cold to hot to fresh – the OmieBox will change how you use it!
When packing hot food, the Omie Lunch Box is best kept and stored at room temperature, not in the fridge or freezer or packed alongside an ice pack. Only the insulated container can hold liquids.
3. Advantages
Omiebox is designed to be very easy for children to operate. It's not difficult to open, requires no setup, and lets kids quickly dish out food. OmieBox gives kids power over their meals, so they eat healthier.
Highlights of the Omie Lunch Box:
Volumes:
lunchbox – 5.5 cups, thermos – 250ml.
Weight:
780g.
Keeps cold food cool and hot food hot. OmieBox uses two different types of padding , so meals are always served at the optimal temperature.
Air insulation, air insulation, and an airtight seal minimize heat transfer to keep food fresh and yummy.
The padded container can hold a variety of liquids, and the cold compartments can hold wet foods such as hummus, dips, and yogurt.
Equipped with its own handle, it's easy for children to carry, and there's no need for a large lunch box.
The thermos jar can quickly be removed, and a tasty sandwich can fit in its place when required. The divider in the cold section is removable, maximizing food options.
The thermos jar is shallow and wide, making it quick for kids to scoop their food out and clean it. Made from 1878 food grade stainless steel, BPA free and phthalate free plastic, food grade silicone.
4. Facts About The Omie Lunch Box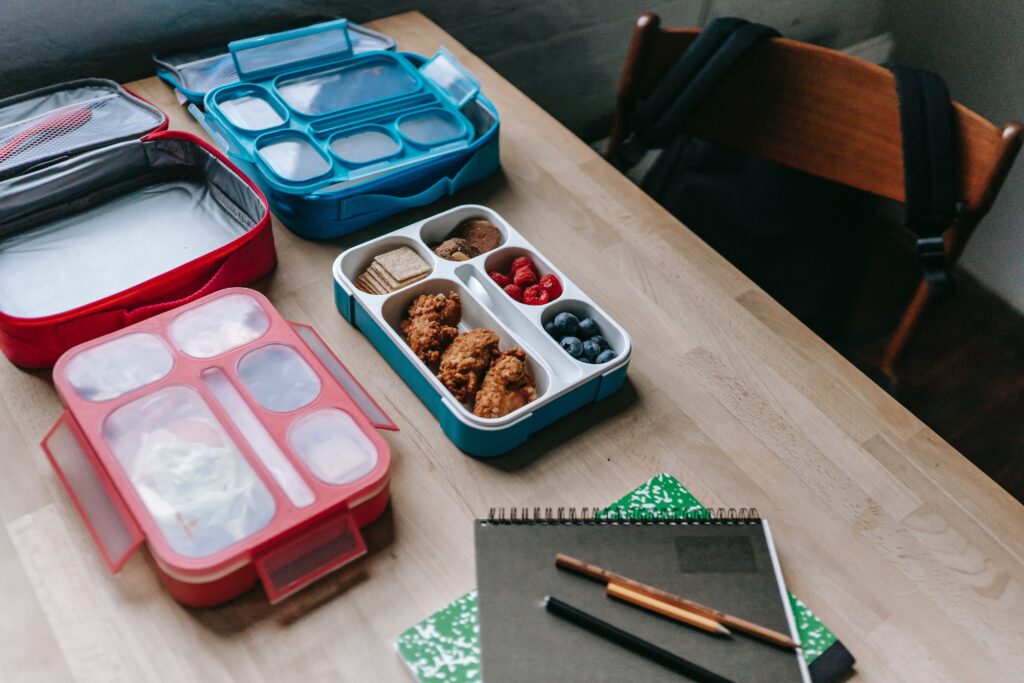 First, fill it with hot or cold water and let it stand with the unique lid off for 10 minutes. Then, empty the container. Be cautious with boiling water.
Do not fill over the inner ridge of the vacuum-insulated container; overfilling can cause leakage.
Turn the securing insert around the Thermos in a clockwise direction. Only do this step if you plan to put the Thermos inside Omie's lunch box.
To seal, hold the Thermos with one hand & the lid with your other. Twist the cap into the Thermos in a clockwise direction.
The side dividers are great for dry foods (rice cakes, carrot sticks), but you can pack moist snacks here too.
To close OmieBox, fold down the lid and an easy latch will close it. Use the palms of your hands to press down to close. This will trigger the seal on the top.
The panel divider is splendid for keeping carrots away from peas, its sub-sections are leakproof.
Don't put your OmieBox in the freezer or microwave. Use soapy, warm water to wash. Do not use abrasive cleaners or scrubbers.
Omie Lunch Boxes are leakproof for wet foods like thick yogurts and dips. Watery and runny liquids should be packed separately in a reusable pouch.
As many of us head back to school or the office, finding convenient ways to bring lunch from home can be challenging. 
The Omie Lunch Box is an adorable bento box with a 4.3-star rating and more than 5000 reviews on Amazon.
It has a circular thermos bowl, which promises to keep hot food warm and cold snacks chill.
5. Packaging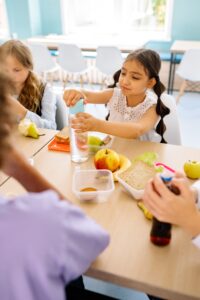 One of the first things you noticed about the OmieBox when it arrived was how it was packed—the unique bubble wrap inside the shipping container was as cute as the bento box itself.
It came with a manual, which seemed extensive for a simple lunch container. Inside, the instructions outlined how to take care of the box.
According to the company, high temperatures and certain detergents commonly used in dishwashers can damage the OmieBox, so washing it by hand is recommended. 
This seems like a big ask, though, especially for a product intended for daily use. After opening the box and installing the lid seal, I inspected the interior compartments.
The OmieBox is made with BPA-free double insulated plastic walls and features two rectangular sections, one horizontally at the top of the box, another on the left side with one adjustable wall and a central square unit holding the circular thermos bowl.
Unfortunately, it doesn't come with utensils, but you can purchase a set on Amazon for an additional fee.
Learn Why The Children's Omie Lunch Box is The Best…
The Omie Lunch Box is intended for children between 3 and 5 years old and is designed to contain foods that a kid around that age would probably eat. 
The rectangular compartments are ideal for carrot sticks, a juice box, and maybe some grapes. This small box could be a significant selling point for parents shopping for compact alternatives to traditional lunch boxes. 
However, if you want a side salad with your lunch or something more substantial, this Omie Lunch Box won't offer enough space. Check out their other Omielife products, including lunch totes, dip containers, snack containers, and travel utensils.
At first glance, the OmieBox is very appealing, especially to parents shopping for kid-friendly lunch boxes. It's cute and compact, and the interior compartments easily store snacks and other bite-sized portions.